The courses of dance is a symbol of communication which brings out the innermost feelings it depicts the cultured aspects of a civilization.
OBJECTIVES
Introduces beginning skills in bharathanatyam dance, covers basic steps, terminology, rhythms, and combinations.
INTENDED LEARNING OUTCOMES
After completion of the course in dance, students will be able to :
Learn about history, origin, and precise styling for each dance in order to enhance the understanding of bharatham as an art form.

Use basic improvisational skills in order to promote creative problem solving.

Learn dance skills to help maintain fitness and health.

Adapt rhythms and musical genres to specific bharatham styles in order to understand the connection between creativity, movement, and musicality in the world.
The courses of Drama & Theatre at Department of Dance, Drama & Theatre Arts is to offer a theatre education with the goal of producing theatre artists with practical skills, intellectual knowledge and the social responsibilities to achieve both creative and professional excellence in the field.
Creative
To train and develop the theatre skills and to cultivate the creative talent of each student so that, upon graduation, he or she is fully prepared to enter into the profession of drama and theatre with a comprehensive understanding of the specific demands of the Theatre Field in Sri Lanka.
Personality
To instill the necessary strength, stamina, flexibility, energy, attitude and behaviour in each student so that, upon graduation, he or she has the necessary physical, emotional, psychological, and mental resources to withstand the demands of a professional career as a theatre person and the ability to sustain those resources ad infinitum.
Scholarly
To further the knowledge of each student so that, upon graduation, he or she will be intellectually strengthen to face challenges of any social, academic or professional situations in the outer world.
Collaborative
To give the student the experience of working within an ensemble for four years so that, upon graduation, he or she has the ability to become a collaborative and productive member in any professional performance context; to extend the student's connections to the larger creative communities in local, regional, national, and international theatre professional contexts; finally, to challenge the student to identify their role as a citizen of their preferred creative community.
COURSES 
ACADEMIC STAFF 
EVENTS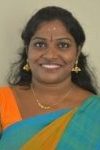 BFA, MFA (Bharathanatyam) (Bharathidhasan University, India), PhD (Dance) (Tamil University, India)
Senior Lecturer Gr. I 
Department of Dance, Drama & Theatre
Mobile: +94 77 562 2370
Email: head_ddt_svias@esn.ac.lk, thakshayinip@esn.ac.lk, dhanothaks@gmail.com