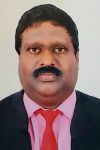 Rtn. S. Edward Reginold
Deputy Registrar
Examinations & Student Admissions
TP: +94 77 741 8675
Email: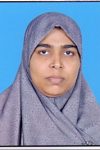 Ms. M. A. C. Fathima Aroosiya
Senior Assistant Registrar
Examinations & Student Admissions
TP:
Email:
Examinations & Student Admissions Division provides various important student related services. Main activities of the division as follows:
Student Registration

Undergraduate and Extra Mural Examinations Related Activities

Conducting Aptitude Tests

Issuing Examination Results

Issuing Academic Transcripts and Degree Certificates etc.
In every year, after finalizing the university admission process, UGC informs the Examinations & Student Admissions division about the list of eligible students for each course conducted by the SVIAS. Then Examinations & Student Admission division informs each student regarding the required documents and the date of registration via post. Eligible students should present themselves on the relevant date at institute premises with the required documents.
Examinations
Examinations & Student Admissions Division conducts examinations for Undergraduate degrees and Extra mural courses. After correcting the examination papers, marks are then submitted to the Examinations division by the  corresponding lecturers. Then staff of the Examinations division process the submitted marks and conducts the semester Board of Examiners (BOE). Also final Board of Examiners for every passing out batch is conducted by the Examinations division. After every BOE, results are displayed in the Examinations division notice board. Results are then submitted to the Senate meeting and after the confirmation of the Senate, results sheets are issued to the students.
General Convocation
General Convocation of university is a very important function of the university and is held ceremonially in every year. Examinations & Student Admissions Division play a major role in the General Convocation with the support of all the other divisions and departments. Every Student who had successfully completed their Bachelors degree should compulsively apply for the General Convocation in order to collect their degree certificate. Even if you do not wish to participate for the General Convocation, still you need to apply for it, as the degree certificate will be allowed to collect only for the graduates whose name is included in the graduand list. If the student is not eligible for the graduation, he/she will be notified through a letter. Then the student needs to apply for the General Convocation again in a later year after completing the requirements for the graduation.  Applications for the General Convocation will be published  every year and you can get more details from this website during that time.
INTERNAL QUALITY ASSUARANCE UNIT
EXTRA MURAL DIVISION
STAFF DEVELOPMENT CNTRE
CAREER GUIDENCE UNIT