The course of music traditional education with the goal of producing creative and knowledge music artists who understand their responsibilities to their community their music and personal growth this course will promote an integrative approach to the course of work and productions that challenge and engage our students and community.
OBJECTIVES
Develop various fundamental performance and sufficient production

skill to prepare them for employment or graduate study in the music.

To promote the performance through the communication.

To Acquire and develop manotharma skills.

To gain proficiency in various areas of the performing arts.

To

participate in the various culture programme appropriate to the

concentration they are pursuing which will prepare them for professional

career.
INTENDED LEARNING OUTCOMES
To learn the importance of responsibility towards their community.

After completion of the course in music, students will be able to :

State basic skills in the interpretation and production of pre-existing texts.

Describe a personal value system based on their broad knowledge of the theory.

Apply skills and knowledge within vocal and instrumental production

and explain the personal and cultural significance of the production.

Evaluate responsibility towards community through various areas of

the performing arts and also gain knowledge of various culture programme

and traditional arts.

Able to explain and demonstrate about Tamil music programme to student and staff.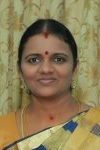 Dr. (Ms.). N. Prashanth
BA, PhD (Music) (Annamalai University, India), MA (Music) (Avinashikulam University, India)
Senior Lecturer Gr. II
Department of Carnatic Music
Mobile: +9477 1242447
Email: head_music_svias@esn.ac.lk, preashanth@yahoo.com