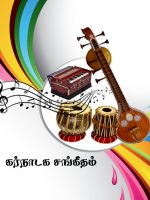 UNDERGRADUATE PROGRAMME – CARNATIC MUSIC
The academic programmes shall be based on the bi-model semester system. As such, each academic year will be considered as year 1, 2, 3 and 4 respectively. Each year of study is divided into two 2 semesters. One semester consists of a 15 weeks term of academic work.
Swamy Vipulananda Institute of Aesthetic Studies (SVIAS) offers the following four years (8 semesters) degree programmes:
Bachelor of Fine Arts (Music)
Bachelor of Fine Arts (Dance)
Bachelor of Fine Arts (Drama & Theatre)
Bachelor of Fine Arts (Visual & Technological Arts)
The curriculum of all degree programmes of the institute are being revised by adopting the Sri Lankan Qualification Framework (SLQF), respective subject benchmark statements and other relavant UGC circulars.
Vocal, Violin & Mirudhangam will be the main branches of study under the Department of Carnatic Music and these will be referred to as Major Practical and Major Theory. These will be the two components of the major subjects. Students shall have the option to choose Vocal, Violin, Veena or Mirudhangam as the practical component under Music and this will be common for all Music students.
COURSE COMBINATIONS
All courses of study consist of;
(a). Course Subjects
(b). Elective Subjects
(c). Optional Subjects